An upcoming Conference on Adoption Law at the Capital Law School's Wells Conference Symposium in Columbus, OH, will feature a host of subjects on "Rethinking the Best Interest of the Child." My (somewhat) controversial presentation is entitled "Rethinking Mom and Dad," and discusses the notion that children need both a mother and a father.
In fact, this is such a significant event that Regent University has allowed me to use this opportunity for student mentoring in leadership. My graduate assistant, Rachel Toberty, will be joining me at that conference. This will provide her with a fabulous comparative perspective on child advocacy by another law school from a different perspective and further develop her leadership skills. She and my graduate assistant, Elizabeth Oklevitch, have done some excellent research to prepare my presentation and article for this event. You can see more about it below: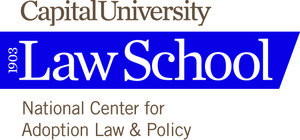 The 9th Annual Wells Conference on Adoption Law:
"Rethinking Children's Best Interests"
Thursday, March 14, 2013
Capital University Law School
Columbus, Ohio 303 East Broad Street
Columbus, Ohio 43215

Panel One will focus on
"The New Face of Family and Children's Best Interests"
FEATURED PANELISTS
| | | | |
| --- | --- | --- | --- |
| | | | |
| Annette Appell, Professor of Law and Co-Director of the Civil Justice Clinic, Washington University Law (same sex adoption; birth certificates) | Cynthia R. Mabry, Professor of Law, Howard University School of Law (Post Adoption Contact and PACAs) | Lynne Marie Kohm, John Brown McCarty Professor of Family Law, Regent University School of Law (Rethinking mothers and fathers: the inclusiveness of family) | Melissa Holtzman, Associate Professor, Department of Sociology, Ball State University (the best interests of the child in the context of contested adoption) |


6.5 CLE and Social Work Counselor and Social Worker Continuing Education credit hours are requested.
For questions about the conference, please contact:
Denise St. Clair
Executive Director
National Center for Adoption Law & Policy
Capital University Law School
dstclair@law.capital.edu
614.236.6593
---
---
The introduction to my remarks, listed here below, gives you an idea of how important mom and dad are to family restoration.
If the players of the National Football League are any indicator of what might be in the best interests of children, some sports experts seem to think that fatherless quarterbacks have more challenges to their NFL success than those who had the benefit of both a father and a mother while growing up.
[1]
Robert Griffen, III (also known as RGIII), is a prime example.
[2]
In fact, "decades of research have now documented the tremendous challenges children face when they grow up without their fathers,"
[3]
and indeed father absence
[4]
and the father wound
[5]
are serious concerns in America today.
[6]
In contrast, others argue there is "
no conclusive evidence that, absent conditions [of poverty], the pure, pared-down state of single motherhood is itself dangerous to children."

[7]

A recent survey of current studies on parenting that mitigated family structure variables indicated that "strengths typically associated with married mother-father families appear to the same extent in families with 2 mothers and potentially in those with 2 fathers."

[8]

That survey of studies concluded that "average differences favor women over men" in parenting, but that "parenting skills are not dichotomous or exclusive" noting that the "gender of parents correlates in novel ways with parenting-child relationships but has minor significance for children's psychological adjustment and social success."

[9]

A 1999 study contended that successful parenting is not gender specific at all, but that children do not need either a mother or a father, but any gender configuration of adults could parent well,

[10]

even if still others called this thinking "lunacy,"

[11]

or "political screed masquerading as science."

[12]
Constitutionally, parental rights are fundamentally protected,

[13]

but what parental situation is authentically in the child's best interests? Arguments for genderless parenting suggest that "the gender of parents only matters in ways that don't matter."

[14]

In 1987 Supreme Court Justice William Brennan in Bowens v. Guillard argued, however, that "the optimal situation for the child is to have both an involved mother and an involved father."

[15]

The New York Court of Appeals in 2006 ruled that
[T]he Legislature could rationally believe that it is better, other things being equal, for children to grow up with both a mother and a father. Intuition and experience suggest that a child benefits from having before his or her eyes, every day, living models of what both a man and a woman are like.
[16]
An expert relied on in testimony against California's Proposition 8 (a referendum defining marriage as between one man and one woman passed by a majority of Californians) wrote that both "mothers and fathers play crucial and qualitatively different roles in the socialization of the child."
[17]
Speaking now as a bisexual parent and a child who was raised by two mothers, Professor Robert Lopez asserts that what parents do matters, and that he and other bisexual parents have "
no choice but to take responsibility for what we do as parents… When you are a parent, ethical questions revolve around your children and you put away your self-interest . . . forever."

[18]

Journalist and researcher A
lana Newman, speaking as a child of sperm donation who was raised without a father at home states "
I am the daughter of a sperm donor. For a long time I didn't understand how this had negatively impacted my life... I am convinced that I am not alone in my struggles being donor-conceived."

[19]

Doug Manwaring, a homosexual father of two teenage boys recently spoke publicly "of his personal experience as a gay man who came to realize that his own children need both a mother and a father."

[20]
Parents affect children. Rethinking whether a child needs a mom and a dad is no straightforward task. Exploring conflicts and issues that arise when determining the best interests of a child in a number of different parental contexts, this article considers rethinking the best interests of a child in having a parent of each gender, namely a father and a mother. Focusing on child rearing and adoption from many angles such as fatherlessness, same gender parenting, motherlessness, parental incarceration, and children resulting from assisted reproductive technologies, this article discusses whether dual gendered parenting holds more or less weight in a best interest of the child analysis. If it does not matter whether a child has an opportunity to have a relationship with both a father and a mother, why is that the case? And if dual gendered parenting better fosters a child's best interest, why is that so? Can any state law require dual gendered parenting within parental rights and equal protection guidelines? And for that matter, should gender of the parent ever be a relevant consideration in the adoption of a child? This piece will consider state statutory codes defining what is in the best interests of a child, pediatric medicine, social science, constitutional requirements, and federal law and policy in determining if it is truly in a child's best interests to have both a mom and a dad. It will conclude with a discussion of dual gendered parenting imperatives, while offering innovative resolutions to the best interests of children missing one or the other.
Part I discusses various studies and scenarios of parenting, perspectives on each, and their results on children. It confronts the problem of fatherlessness, the need for mothering, and the significance of a marriage context for children. Part II examines statutory parameters on the best interests of children regarding parental preference in state codes, analyzing these factors and considering whether and how they are directed by pediatric medicine, or evidence from social science. It then compares these facts with federal law on equal protection, and federal family policy. Part III brings all these angles together in a discussion of a child's interests in his or her own parents. It sets forth how the law and the evidence find it imperative that a child have an opportunity to enjoy a relationship with a father and a mother whenever possible, while offering innovative resolutions to provide a father or a mother for a child that has been deprived of one or the other.
A child's best interests, though required by state family law code, are not always the driving factor in parental decisions. Rethinking the best interests of a child leads to a legal duty that finds it imperative to allow a child every opportunity to have one parent of each gender - a mother and a father - whenever possible.